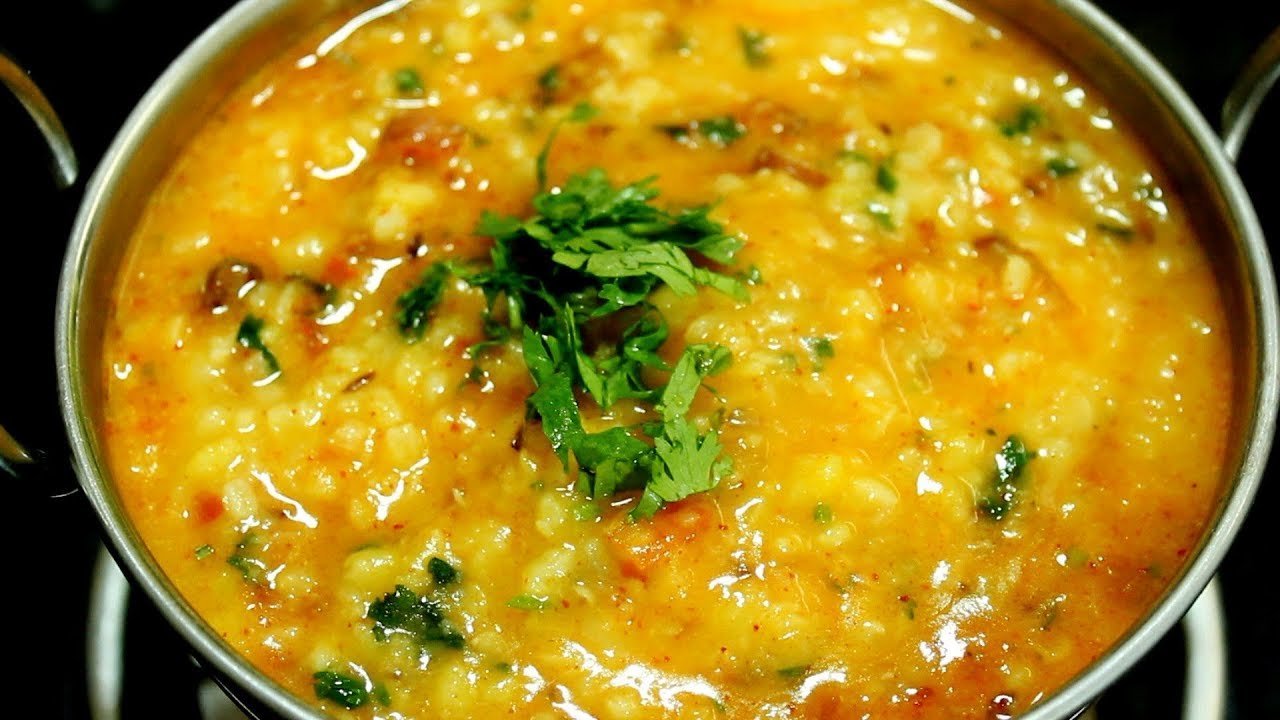 LAL MASOOR KI DAL
This Vegan Masoor Dal is asimple and easy lentil recipe made with split pink lentils (dhuli masoor dal).It goes well with roti or rice.
Ingredients
For Pressure Cooking MasoorDal
½ cup masoor dal or pink lentils or dhuli masoor dal

1.5 to 1.75 cups water for pressure cooking dal
For Making Masoor Dal
2 tablespoons oil

1 teaspoon cumin seeds

1 medium sized onion, chopped

2 to 3 small to medium sized garlic, crushed or chopped

1 inch ginger, chopped

1 to 2 green chillies, chopped or slit

1 to 2 whole dry red chilies,

1 medium sized tomato, chopped

¼ or ½ teaspoon red chili powder (organic or homemade chili powder can be just ¼ teaspoon as they are very strong)

1 generous pinch asafoetida (hing)

¼ or ½ teaspoon garam masala powder (homemade garam masala powder can be just ¼ teaspoon)

½ teaspoon turmeric powder

1 to 1.5 cups water or add as required

1 teaspoon kasuri methi (dry fenugreek leaves) - crushed (optional)

1 to 2 tablespoons chopped coriander leaves (cilantro leaves)

½ or 1 teaspoon lemon juice or as required

1 tablespoon chopped coriander leaves for garnishing (optional)

salt as required
Instructions
Preparation
Pick and rinse the pink lentils (dhuli masoor dal) well.

Pressure cook the pink lentils in a 2-litre pressure cooker with 1.5 to 1.75 cups water, till they become soft and mushy. Pressure cook for 5 to 6 whistles on medium flame. 

When the lentils are cooked, beat with a wooden spoon or wired whisk lightly.

Keep the cooked pink lentils aside. If lentils are notcooked, then add some more water and pressure cook for a few whistles more
Making Masala Base For The Dal
In another pan or pot, heat oil. Fry the cumin seeds till golden. 

Then add onions and fry till they are light golden. 

Add chopped ginger and garlic. Stir and fry for 10 to 15 seconds or till the raw aroma of ginger and garlic goes away. 

Add green chilies and red chilies. Stir.

Add all the dry spice powders one by one including asafoetida (hing) and stir.

Add the tomatoes and fry till the oil separates and the tomatoes become soft.
Making Vegan Masoor Dal
Add the cooked pink lentils. Pour 1 to 1.5 cups water.You can adjust the quantity of water as required.

Add salt and stir. Simmer for 6 to 7 minutes more on alow or medium flame till you get the desired consistency

This dal is neither thick nor thin and has a medium consistency.

Lastly add Kasuri methi and simmer for 1 minute.

Towards the end add lemon juice and 1 tablespoon chopped coriander leaves and stir. Switch off the flame.

You can also garnish the dal with coriander leaves if you want while serving. Serve this masoor dal hot with steamed basmati rice or roti or chapati.
Notes
The dal also can be cooked in a pot or pan. Just soak the dal for 30-40 minutes, so that they cook faster if cooking in a pot. adjust the quantity of water as required.
Adjust the spices in masoor dal as per your taste