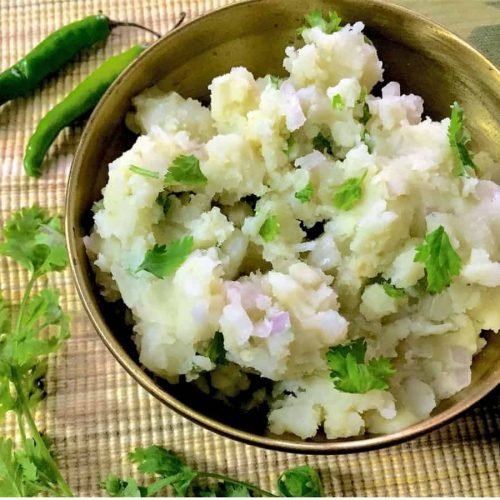 ASSAMESE ALOO PITIKA
Easy Assamese AlooPitika - mashed potatoes in mustard oil, with onions and hot green chillies.Vegan, gluten free, this is a simple North East Indian dish
Ingredients
2 Potatoes - or about 2 cups when peeled and sliced

1 teaspoon mustard oil

1/2 cup sliced onions

2 Green chillies - or 2 teaspoons of sliced chillies

1/2 teaspoon salt

coriander leaves - for garnish
Instructions
Set the potatoes to boil. I used a pressure cooker and cooked till 3 whistles so the potatoes became soft and fully cooked. The timings above are based on the same.

Meanwhile prepare the other ingredients: Slice thechilies, onions (small pieces) and mince the coriander leaves

When the cooker is ready to open, peel the potatoes and then mash them as you would for chokha. Check that there are no chunks of un-mashed potato

Add salt, chilli, onion slices and mustard oil. Mix it all well. Either mix in the coriander leaves (which is what I did) or use them as garnish. Serve with rice and dhal or with roti, whatever you please!