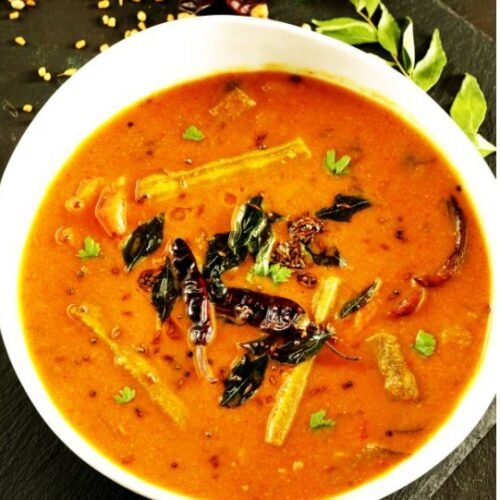 SAMBAR
South Indian lentil stew made with vegetables and spices! This flavorful and spiced Sambar goes well with rice, idli or dosa!
Ingredients
To Pressure Cook the Dal
1 cup toor dal/arhar dal pigeon peas lentil

1/2 teaspoon turmeric powder

1 teaspoon salt

3 cups water 24 oz
Tamarind Juice
1 tablespoon tamarind piece

1/3 cup hot water
For Cooking The Vegetable
2 teaspoons oil

1/2 cup chopped eggplant

2 medium carrots diced

7-8 drumsticks I used frozen ones that I got from Indian store

1/2 teaspoon salt adjust to taste

1 medium tomato chopped

3 cups water 24 oz

2 tablespoons sambar powder homemade or store bought, adjust to taste

2-3 teaspoons powdered jaggery

1/2 teaspoon kashmiri red chili powder optional
Tadka/Tempering
1 tablespoon ghee or use oil

3/4 teaspoon mustard seeds black

1/4 teaspoon hing (asafoetida)

10-15 curry leaves

chopped cilantro to garnish
Instructions
To a pressure cooker, add the rinsed dal with 1/2 teaspoon turmeric, 1 teaspoon salt and 3 cups (24 oz) of water. Cook for 5 whistles on medium-high flame, then lower the heat to medium-low and let it cook for another 5 to 6 minutes. Once the pressure releases naturally, open the cooker and mash the cooked dal lightly with a potato masher. Set aside. If using an Instant Pot, pressure cook for 9 minutes on high pressure with natural pressure release.

Meanwhile soak 1 tablespoon tamarind piece in 1/3 cup of hot water for 15 to 20 minutes. Then strain the liquid using a strainer. You will get 3 to 4 tablespoons of tamarind water/juice. Set it aside.

In a pan, heat 2 teaspoons oil on medium heat. Once the oil is hot, add the chopped eggplant and cook for around 2 minutes.

Add carrots and frozen drumsticks and 1/2 teaspoon salt and cook for 2 more minutes. Add the chopped tomato and cook for 1 minute.

Then add around 3 cups (24 oz) water and stir.

Add 2 tablespoons sambar powder (or adjust to taste). Also add jaggery powder, and 4 tablespoons of the tamarind water that you had extracted earlier.

Stir in the cooked dal. Also add the kashmiri red chili powder, if using.

Stir everything together and let the sambar simmer on medium heat for 5 to 6 minutes.

For the tempering, heat 1 tablespoon ghee (or oil if you want to keep this vegan), in a small pan on medium heat. 

Once the ghee is hot, add mustard seeds and let them pop. Then add the hing and curry leaves for stir for few seconds until leaves turn crisp.

Pour tempering over the simmering sambar.

Serve the sambar hot with idli, dosa or rice!
Notes
Use oil in place of ghee in the final tadka to make this recipe vegan.
You can also use a mix of toor and moong dal to make this sambar.