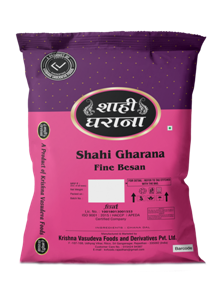 FAFDA
Fafda is a friedcrispy crunchy tasty snack made with besan (gram flour), laced with carom seedsand black pepper. A popular Gujarati vegan snack.
Ingredients
1 cup besan (gram flour)

¼ teaspoon ajwain (carom seeds)

10 to 12 black pepper - crushed coarsely

¼ teaspoon turmeric (haldi)

1 pinch asafoetida (hing)

⅛ teaspoon baking soda or 2 to 3 pinches baking soda

3 to 4 tablespoons water or add as required

2 tablespoons oil

¾ teaspoon salt or add as required

oil for deep frying, as required
Instructions
Making Dough
In a bowl or parat (large plate with rims at the sides) take 1 cup besan (gram flour).

Add carom seeds (ajwain), crushed black pepper, turmeric powder and asafoetida (hing). Also add ⅛ teaspoon baking soda or 2 to 3 pinches of baking soda.

Mix very well with a spoon.

Now add ¾ teaspoon salt or add as per taste.

Add 2 to 3 tablespoons water in parts.

Begin to mix the water with the besan. thenknead to a tight dough

Now add 2 tablespoons oil. mix again and continue to knead.

Also add water if required. Initially I added 3 tablespoons water and after adding oil, added 1 tablespoon water. So in total I used 4 tablespoons water. Depending on the quality of besan, you can add a total of 3 to 4 tablespoons of water.

Continue to knead till all the water is absorbed.

When the water is absorbed, the stickiness will go away and you will get soft dough. So Knead till you get a soft smooth dough. cover and keep aside the dough for 30 minutes.
Rolling Fafda
After 30 minutes, make small balls from the dough. Cover them with a lid or a kitchen towel so that they do not become dry.

On a wooden board spread oil very lightly. 

Now with the heels of your palms, with a light pressure and force, press and flatten the dough ball and at the same time move the palms forward. 

If you apply too much pressure then fafda will stick to board and will break while lifting. This is the only tricky part in the whole recipe. 

You will get a long elongated shaped fafda. Gently pick it up from the board. 

An alternate method is to roll a large piece of dough with a rolling pin (belan) on a greased rolling board (chakla). Then with a knife cut strips and remove them.

Keep it on a separate plate which has been greased lightly with oil. Make fafda this way with the remaining dough balls. Cover with a kitchen napkin so that they do not become dry.
Frying Fafda
Heat oil in a kadai. When the oil becomes medium hot, check a small tiny piece of the dough. It should gradually come up on top of the oil.

Now reduce the flame to low-medium. Add the fafda pieces gently in the oil.

Do not overcrowd the kadai. Depending on the size of the kadai, you can add 3 to 4 pieces at a time.

Begin to fry at a low-medium flame.

When one side is crisp and golden, then with aslotted spoon gently turn over each fafda and continue to fry.

Turn over again and fry till crisp. Do not fry till too much browned. Fafda gets fried quickly, so the frying needs attention.

Remove with a slotted spoon draining excess oil.

Place them on kitchen paper towels for extra oil to be absorbed.

Serve them warm or at room temperature with papaya sambharo or fafda chutney or gujarati kadhi. or you can also enjoy the combo of fafda jalebi.